Services Included
Logo Placement in Search Results
Logo Placement on All Job Postings
Link Back to Your Company Website
Unrestricted Length of Job Postings
View Qualified Applicants
Exclusive Sales Resume Bank
E-mail Qualified Applicants Your Job Posting
Save Resume Search Criteria
Post once and distribute your job to over 200+ employment and sales employment niche sites

Post your job here and your job goes everywhere, SalesJobs.com works with over 200+ employment and media sites like LinkedIn, Facebook and even Twitter. When you post your jobs with us, your jobs get posted on a huge variety of other employment sites to maximize your coverage. We've partnered with all of the major players as well as niche employment sites. Once you post your job here, that job will be seen everywhere.
Auto job refresh feature
Get your jobs refreshed automatically without having to repost or update them. Our automated system analyzes your traffic to your job postings and maximizes your jobs viewing potential by refreshing your jobs and bringing them to the top of search list.
Unrestricted length of job posting
Unlike most employment sites, there is no restriction on the length of your job posting. No one understands sales employment better than SalesJobs.com. You can put everything your candidate needs to know in the body of your posting. You will never run out of space!
Add /Edit, Rotate or remove jobs at no cost
At no cost whatsoever, you can repost, add, edit or even rotate your job postings at the click of a mouse.
Extend your job seeker audience with built-in social media recruiting

When you post your jobs with us, we post those very same jobs on social media websites like LinkedIn, Facebook, and many others.
Reach both active and passive sales professionals with E-mail job alerts
As soon as you post a job, that job goes live immediately and within seconds we begin e-mailing qualified active and passive sales professionals your way!
Mobile job alerts sent to cell phone

As soon as you post a job, that job goes live immediately. You will receive notifications from active and inactive candidates within seconds.
Brand yourself! Customize your branding with your own company logo giving your job its own look and feel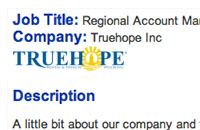 Upload your logo at the click of a mouse. Your logo will be seen in your job posting and the job listing search page.
Manage all your job postings in one place

In one easy-to-use interface we allow you to manage all of your jobs, edit, delete and view candidate traffic in real time, knowing exactly how many candidates have viewed your job and how many candidates have applied. With a simple click of the mouse you can begin viewing all candidates who applied to your jobs and begin contacting them is seconds.
Resume screening agent

When posting jobs with us we allow you to set up a resume screening agent with each job posting. You can screen candidates by years in sales, years selling in their current industry, education, and so on.
View qualified applicants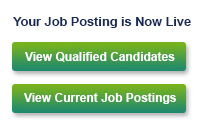 With access to our resume bank, every time you post a job you will see a link that says, "view qualified applicants". By simply clicking on this link, our system will automatically search our entire resume bank and will find the most qualified applicants that match your job description and a resume screening agent will bring a list of candidates to you in seconds without ever having to search our resumes. You can simply begin contacting those candidates right away or simply click, "send job posting to all" and our system will automatically send your job posting to every qualified candidate in that list within seconds.
Track and rate applicant from start to finish
With our applicant tracking interface, we allow you to track candidates from your first contact to hire.
View full traffic reports on applying candidates and those viewing your job posting

We gave you the ability to know exactly how many candidates are viewing your jobs, and how many candidates are applying to your jobs, and also give you the ability to view those very candidates in seconds all in one interface.
Automatically receive active and passive candidates resumes that match your job posting with our "Auto Recruiter Software"

With our, "auto recruiter software" our system will e-mail you active and passive candidates that fit your job description, and our resume screening agent will e-mail them to you daily. Our system will search our resume bank and find the best fit for your sales position, it's like having your own auto recruiter working 24/7 and sending you results daily.
Access to the world's largest niche sales resume database to pinpoint the exact sales candidate for your position in seconds using our sales resume search tool.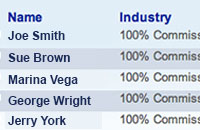 We own the largest niche sales resume bank in the world. We invented online sales recruitment. Our search tool was built exclusively for sales unlike any other employment site or niche sales employment site. We collect a great deal of information from our candidates when posting their resume to our site and it's because of this that our resume search platform delivers pin point accuracy. You can pinpoint the candidate you were looking for via location, sales experience, industry experience, compensation and more...
Send job postings to all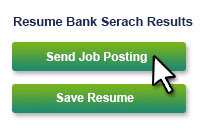 With access to our sales resume bank we save you time and money by giving you the opportunity to send your job posting to every candidate in your resume search, and simply walk away. Our system will notify each and every one of those candidates that you're interested in their background and will send them a copy of your job posting for their review. No more spending hours clicking through endless resumes contacting one phone number after another. Our system does the work for you and if the candidate is interested, they will simply apply to your job, and in seconds you'll have a qualified candidate who is interested in your position and is ready to interview. All of this at the click of a mouse.
Send interview notifications

With access to our résumé bank, you have the ability when searching our resume database to immediately notify a candidate of interest without ever having to pick up the phone. You can easily send that candidate an interview notification at the click of a mouse, letting them know you're interested in speaking with them.
E-mail qualified applicants your job posting

With access to our resume bank, you have the ability to send your job posting to one or more qualified candidates you find in your search at the click of a mouse. In seconds your job posting is sitting in the inbox of the candidate of your choice.
Save resume searches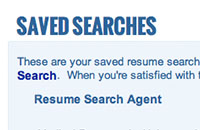 With access to our resume bank, you have the ability to save your resume searches all in one place and store on one interface.
Recruiter agent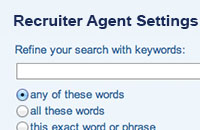 For the first 30 days of your membership, we will send you qualified applicants that fit your location, industry and job posting.
Talk to a real "sales recruiters" who understand your industry and needs.
Unlike any other employment site on the web today, with SalesJobs.com, you have direct access to our very own sales recruiting staff, all with no less than 10 years of experience as outside sales recruiters from nearly every industry.
A.T.S ( Applicant Tracking System ) compliant and a snap to use. Merge your own applicant tracking software to our platform with ease
With every membership we give you the ability to apply your applicant tracking system to our own platform at the click of a mouse.
Add additional users in a snap
With both of our $399 and $599 packages, we will email you a link that you can send to all of your recruiters nationwide, and at the click of a mouse, they can sign themselves up in seconds.
Upgrade or downgrade your membership with ease

Directly from your account homepage, you have the ability to upgrade or downgrade your account at any time and your account will be prorated in seconds.
Web Stats
How We Stack Up
Registered Sales Professionals
1,142,591
New Job Seekers Per Month
55,000 (avg.)
Page Views Per Month
5,362,896
Registered Companies
4,201,837
New Companies Per Month
1,200 (avg.)